So FEEF, what games coming out for the rest of this year tickle your fancy? Hmm?
For me it's surprisingly slim pickings as far as games that have caught my eye enough to open my wallet. (Which is a good thing for it, believe me!) Only 8 games.

Castlevania: Lords of Shadows
Publisher: Konami
Developer: MercurySteam
Release: October 5th
System: X360, PS3
I've never been into the Castlevania games too much growing up, but with the growing gaps between releases in recent years gave me time to consider getting in on the franchise, but I never really knew where to begin. It wasn't too long ago that Hideo Kojima, the developer behind the Metal Gear series, announced his involvement with a Castlevania game being developed by Spanish based developer MercurySteam. Now anybody who knows me probably knows that the Metal Gear franchise is my favorite in all of video games and Kojima's involvement with the game was all the incentive I needed to decide that this would be where I start with the Castlevania series. Still though, I was a bit dubious. Usually when another developer takes the reigns of an established franchise that he's never been involved with before, the outcome isn't exactly spectacular. Thankfully, a new trailer released during Tokyo Game Show two weeks ago has quelled my fears. It looks to be fantastic, and it releases today. Too bad I'm indisposed with more important matters on Oct. 5th, so it will have to wait.

Time Crisis: Razing Storm
Publisher: Namco Bandai Games
Developer: Nex Entertainment
Release: October 19th
System: PS3
Ah Time Crisis. I have fond memories from my youth of going to the local liquor store with my grandmother and head straight to the back corner with the arcade cabinets while she got her lottery tickets. Of all the arcade games there, Time Crisis was always my favorite because even though I didn't have the quarters to play, I could still hold the gun and pretend to shoot things, and the demo screen would make me feel like I was actually playing. As for Razing Storm, it's a compilation of three games games; Time Crisis 4, Razing Storm, and Deadstorm Pirates. All three of these games have been patched to make use of Sony's new PlayStation Move motion controller. Of all the games currently announced for the controller, this one definitely interests me the most because it seems to have the most promise of providing an experience that couldn't be matched with a traditional controller, but is still very engaging. Plus I can't wait to play with Rayne. She'll probably whup me.
Vanquish
Publisher: Sega
Developer: Platinum Games
Release: October 19th
System: X360, PS3
Yet another game coming on October 19th is Vanquish, the newest brainchild of Shinji Mikami of Resident Evil fame. I've never been much of a shooter fan usually preferring the more strategic genres, but even when I do buy shooters they're almost always on the more single-player oriented side such as Uncharted, BioShock, and Portal. That's what originally caught my eye about Vanquish. Upon the revelation that all three of the previously mentioned franchises had moved on to incorporate multiplayer in their sequels, I had figured that the age of single-player only shooter games had come to an end. Then I downloaded the demo for Vanquish and Shinji Mikami punched me in the face. I've never experienced a single-player shooter that is as fast-paced as Vanquish, and I love how the combat armor suit provides incredible powers and feats, but has limitations that need to be considered strategically. The fact that the game is being developed by the remnants of the team that created Okami makes me love it that much more.

Naruto Shippuden: Ultimate Ninja Storm 2
Publisher: Namco Bandai Games
Developer: CyberConnect2
Release: October 19th
System: X360, PS3
Wow, October 19th is a popular day for games. I'll admit upfront that one of the main reasons I'm interested in this game is because of how beautiful it looks. It really looks like you're playing in an anime. I had the first game, so I know what to expect with this one. Frankly, if they fixed any of the problems with the first game including redundancy and depth of the combat, then it should be amazing. And even if they didn't fix those problems, it would still be a solid purchase for me. The fact that this game seems to be the only Japanese fighting game releasing this holiday doesn't hurt either. Oh, and the acronym is pretty funny; NUNS2.

Gran Turismo 5
Publisher: Sony Computer Entertainment
Developer: Polyphony Digital
Release: November 2nd
System: PS3
Every now and then I get the urge to get a racing game. It's somewhat unexplainable. It's not what I would call one of my favorite genres like Action, Adventure, Fighting, and RPGs. It's just something that I compulsively buy at random. That being said, GT5 is probably the first racing game that I have actively looked very forward to. It's been in development for almost 6 years now, which is as unbelievable and ridiculous as it is understandable and warranted when you consider how much content and how many features the game has. This is the real driving simulator. It's everything any other racing game that incorporates simulation tries to be. Over 1000 cars from over 90 manufacturers, over 100 tracks from all across the world and the genius of Kazunori Yamauchi's mind, dynamic car damage, dynamic weather conditions, day and night cycles, a robust photo mode, 16 player online races, NASCAR, WRC, SuperGT, Formula One, kart racing, Top Gear, PlayStation Eye head-tracking, and the list goes on. Honestly, once I get GT5, I'll have very little reason to get any other racing game. Until Gran Turismo 6 of course.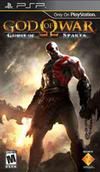 God of War: Ghost of Sparta
Publisher: Sony Computer Entertainment
Developer: Ready At Dawn Studios
Release: November 2nd
System: PSP
I'm a sucker for hack & slash games. There's just something so satisfying about mashing buttons and combinations that cause you to tear and shoot your way literally through hundreds of enemies, and no game does this on the same epic scale as the God of War games. When Ghost of Sparta comes out later this year, I plan to have a God of War marathon where I play through all the four previous games in the series before completing the saga. That will definitely be a brutal week for the people and Gods of Greece.
Need for Speed: Hot Pursuit
Publisher: Electronic Arts
Developer: Criterion Games
Release: November 16th
System: Wii, X360, PS3, Windows
There is one thing that GT5 doesn't give me, and that's intense arcade style racing game with power ups and an open-world environment. Thankfully, EA and Criterion Games of the Burnout series have me covered. Need for Speed: Hot Pursuit is essentially the anti-thesis of everything that GT5 is. Unrealistic, unrestricted, and more about having fun than having an experience. The only thing they apparently seem to share, is the quality gameplay that put them atop their genre.
Epic Mickey
Publisher: Disney Interactive Studios
Developer: Junction Point Studios
Release: November 30th
System: Wii
What? A Mickey game published by Disney that I'm interested it? What makes this any different than the sea of mediocre games before it? Warren Spector of Deus Ex, that's who. Why Mickey? Because he's been waiting to have his potential realized. Epic Mickey is essentially Kingdom Hearts minus the Final Fantasy aspects. You play as Mickey and explore an epic story that delves into all things Disney. As a child who practically grew up in Disneyland and loves the Kingdom Hearts series for it, this game is like a second dream come true.
So that's all the games I'm looking forward to, what about you all? Your responses don't have to be all elaborate like mine, just names or explanations will do just fine.